---
---
WELCOME TO THE ABSOLUTE LARGEST REFERENCE SOURCE OF CONCENTRATED INFORMATION ON SILVER HISTORY
AND MONETARY SILVER SUPPRESSION

IN EXISTENCE

; AND A VERY LARGE RESEARCH REFERENCE SOURCE ON GOLD AS WELL!

THIS GROUNDBREAKING SERIES PULLS NO PUNCHES AND NAMES THE PILGRIMS SOCIETY AS THE SOURCE OF GOLD/SILVER SUPPRESSION!


JULY 2014 : SILVER SUPPRESSORS HIDING IN THE DARK! by Charles Savoie

---


---
The Free Market Will Supply Silver To Anyone Who Needs Silver, If The Free Market Is Allowed To Function!
Please forward this site to your Congressional offices! To those who own no silver or gold, why should you care how metals investors are treated? When the rights of any group are trampled on, the rights of any other group may be next to come under fire! In the Franklin Roosevelt administration, ferocious rent controls were imposed for ten years that ruined 7 million small landlords! Who cleaned up? Larger interests who could hold out is who the favor of cheap acquisition and consolidation was done for! The inviolability of private property rights is central to the American dream! Special interest groups cannot be allowed to gut the finances of innocent investors! Silver Users Association, we are about to address YOU! GET THE SUA OUT OF BED WITH THE HOMELAND SECURITY DEPARTMENT http://www.financialsensearchive.com/fsu/editorials/steer/2007/1018.html United States national security does not depend on a silver user's cartel having a stranglehold on the physical silver supply! Every SUA member company has counterparts who aren't members who can supply the government with finished goods under free market conditions!
SILVER USERS ASSOCIATION---
If you want increased silver availability, lobby for legislation exempting silver from capital gains taxation.
It's
THAT
or
NOTHING
!
This is the companion site to www.silverstealers.net where you can see Who has been stealing silver for over a century from Americans --- Chinese---Indians---Mexicans---Peruvians---Bolivians---English and European residents---and silver miners!
The Silver Stealers hope to use the President to issue a criminal Executive Order nationalizing silver, saying oh, the Franklin Roosevelt administration provided precedent for involuntary silver transfer from citizens to Uncle Sam at a low suppressed price! THIS WON'T WORK TODAY if we can have enough Americans read "THE SILVER STEALERS" and the contents of this site also! The MONEY POWER can be defanged and declawed!
---



TO SILVER USERS ASSOCIATION!
---
We the silver investing American public know too well that if silver were nationalized a second time, it wouldn't go anywhere else but to The Silver Users Association! We know that some Pilgrims Society member from Wall Street as Treasury Secretary would dole it out to your grasping members! IF THAT TAKES PLACE WE WILL ORGANIZE THE MOST MASSIVE, UNRELENTING AND IMPLACABLE CONSUMER BOYCOTT IN HISTORY OF EVERY LAST SILVER USERS ASSOCIATION COMPANY AND ALSO OF YOUR PRIMARY BANKS! YOU BEST SEE TO IT THAT SILVER NATIONALIZATION DOES NOT OCCUR A SECOND TIME OR FACE THE RUIN OF YOUR ENTERPRISES! The guiltless must not be made to answer for the misdeeds of the culpable! Let those who carted off the silver reserve be solely accountable for restoring it and without immoral recourse to thieving eminent domain tactics!
For many years after the Silver Purchase Act of 1934, the Treasury Department served as candy store to industrial silver users, receiving output from mining companies and tossing it away at cheap rates to these users. We must not have a government stranglehold situation in which miners are mandated to deliver their production to the Treasury. In such a system, political cronies of the President will get favoritism at taxpayer and miner expense. The Government has no legitimate business in dispensing commodities to any industrial users. We must not have any Federal Mining Agency. Let users source silver in an open market at competitive rates!
What about the former United States strategic silver stockpile? It once stood at 165,500,000 ounces, and the majority of it was bled off by the Silver Users Association! The armed forces need to have silver in reserve as a high-tech metal for defense only of United States borders---not for overseas interventionism sponsored by The British Crown's Pilgrims Society! The organization is explained in
"THE SILVER STEALERS."

---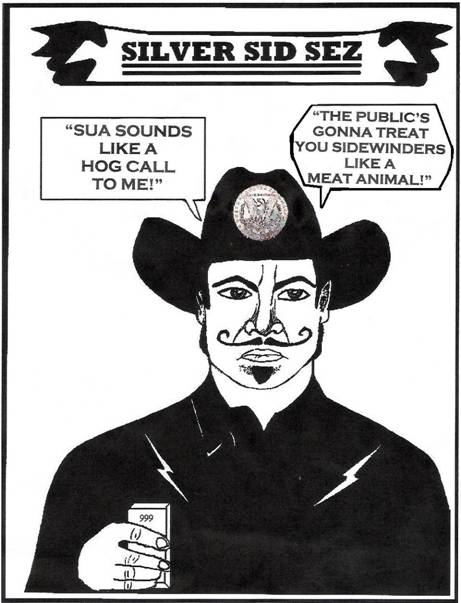 ---

HEY!! IF YOU QUOTE FROM MY PRESENTATIONS PLEASE HAVE THE DECENCY TO USE ATTRIBUTION (MY NAME MUST REMAIN ON MY WORKS!) NAME RECOGNITION IS THE ONLY CURRENCY I ASK TO GET PAID IN; EVERYONE WHO PRESENTS INFORMATION EXPECTS THE SAME COURTESY! IF YOU INTEND TO WRITE AN E-BOOK OR A PAY TO ACCESS ARTICLE ON SILVER/GOLD, IT WOULD BE MORE RESPECTABLE IF YOU'D JUST DO YOUR OWN RESEARCH ELSEWHERE INSTEAD OF BUILDING ON MY BONES BY MINING MY FREE ACCESS SITE FOR INFO YOU PLAN TO CHARGE READERS FOR!

Click here to read "THE SILVER RAIDERS" an introductory history of The Silver Users Association.
Click here to read "Silver Users Exporting Jobs"
Click here to read "Silver Users In Open Warfare"
Click here to read "Red Lights Flashing For Silver Users"
Click here to read "Message To Miners And Silver Users"
Click here to view 312 page report on Franklin Roosevelt's Gold and Silver Seizure
Click here to view The Silver Institute Vs The Silver Users Association at Resource Investor
Click here to view my almost 200 free public service silver/gold research presentations since 2001, ranging from 999 to over 400,000 words.

Click here to read Ted Butler on silver stockpile depletion "Pearl Harbor 2001"
http://whysilverandgold.blogspot.com/2009/05/will-government-try-to-confiscate.html
http://www.sptimes.com/2003/08/17/Columns/Police_are_addicted_t.shtml
---
To Clarify---No Silver Nationalization's interest Is Strictly Protection of Property Rights In Precious Metals.
---
---
"IF THE VALUE OF BANKNOTES UTTERLY BREAKS DOWN, SILVER WILL COME OUT OF HIDING AND PROVIDE A CURRENCY." ‐‐‐silver statistician, archivist and historian Dickson H. Leavens, quoted by Nevada silver Senator Patrick McCarran (1933-1954)

---
PLEASE ASK YOUR FAVORITE METALS SITE TO LINK THIS SITE IN CASE THEY HAVEN'T ALREADY DONE SO!
---
Copyright © 2011-2017 by Charles Savoie
---